STRANGENESS & CHARM
Strangeness & Charm
Purchase Options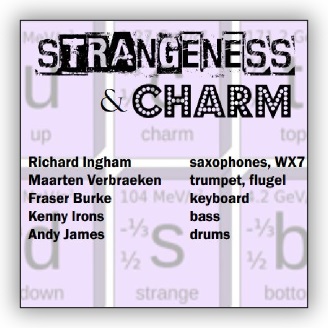 Cover Design by Largo Music
Album Info:

Recorded at Watercolour Music, Ardgour, Scotland
Sound engineer: Nick Turner
Production and graphic design: Margaret Douglass
Tracks:
Tam's Tom Toms - full title is Tam's Tom Toms and Tom's Tam Tam.
Written by Richard Ingham for his friend Tom Annan. It's so catchy, and yet there's no tune! Featured soloists on this version are Fraser and Richard.
Unpronounceable Two-Step - full title The Krzysztof Skubiszewski and Alfred Hrdlicka Two Step (so that's why there's a short title).
Written by Richard, a rolling Afro 12/8 groove, featuring Fraser and Maarten. Cool bass lines from Kenny and Fraser.
First Snow - full title First Snow and the Road to Aberdour.
Again by Richard, this was written as part of a suite for his grandson Magnus. His first trip out was from the hospital to his home in Aberdour, through the snow. A free opening, on wind synth, joined by the others, then a steady groove. Solos by Richard and Maarten.
Solstice - by Andy James.
An infectious meaty swinging number, with a noisy intro and a cheeky head. Solos by Richard, Maarten, Fraser, Kenny, Andy. More happy music!
(bonus track - shhh, it's a secret......)

(Nola's Cup Cakes)
(A short hommage to Miles Davis and The Beatles. A prize for the first person to spot the Beatles connection. Thanks to Nick Turner's patient fish, and the Singleton bottle.)