MRS MALCOLM
Scottish Saxophone Ensemble
Purchase this recording through our sales page.
Purchase Options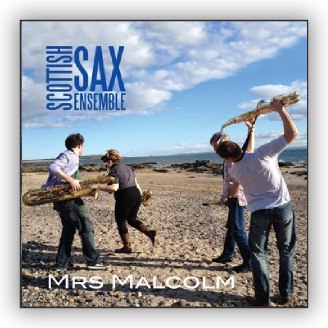 Cover Design by Birnham CD
Mrs Malcolm, Her Reel (Funky Freuchie) Richard Ingham
Mrs Malcolm, Her Reel (Funky Freuchie) was commissioned by the University of St Andrews to celebrate 10 years of jazz courses in 2004. My friend the real Mrs Malcolm co-ordinated the courses. It has had many performances worldwide. A reel, with a very funky bass line, and maybe a twist at the end. Solos from Richard and Sue.
Quartetto II - Roberto Di Marino
The second saxophone quartet of Italian composer Roberto di Marino (b. 1956) is in three movements, all based on dance forms from South America and Spain. Di Marino's innovative and highly effective quartet writing makes great use of multiple riffs, heterophony and strong melodic lines. The work was written in 1996.
So Softly - Ian Wilson
Irish composer Ian Wilson (b.1964) wrote So softly in 1992 at the request of British jazz legend Stan Sulzman and first performed by a quartet which included Sulzman, Evan Parker, Julian Argüelles and Ray Warleigh. The piece itself is mostly gentle, almost like a lullaby, with a sense of appearing from, and disappearing into nothingness.
New York Suite - Paquito de Rivera
Sofia
Waltz
Monk-Tuno
Escape to Dreamland
The eclectic New York Suite by Cuban composer Paquito de Rivera (b.1948) displays influences from Balkan and Cuban music as well as from contemporary jazz. The work was written in 1989 for the Gerald Danovitch Saxophone Quartet.
Sederunt - Pérotin (arr. Ingham)
A leader of the Notre Dame School, French composer Pérotin (1160-1230) is one the earliest polyphonic writers. His music has great elegance and can occasionally enter the sound world of minimalist music of the later 20th century. This arrangement of a choral work from 1199 is scored for three sopranos and baritone.
Through a Landscape - Richard Ingham
Through a Landscape was written in 2005 for Sax Shades quartet. The listener hears sections of disparate musical styles, much as a walker, moving through a landscape, can turn and see radically different vistas.
Walking the Cowgate - Richard Ingham
Walking the Cowgate was written in 2009, for the Scottish Saxophone Ensemble to perform at the XV World Saxophone Congress in Bangkok. Upbeat jazz, only slightly manic, and with a swing 16s groove, it features extended solos from Sue, Tim and Mike.