FROM PENNAN TO PENANG
Richard Ingham & Mary McCarthy
Purchase this recording through our sales page.
Purchase Options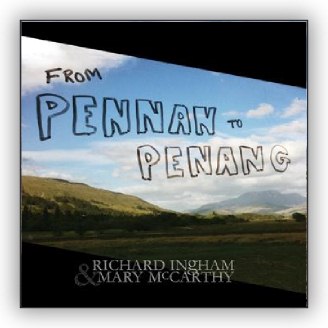 Cover Design by Birnham CD
FROM PENNAN TO PENANG was written in 2003-2004, and is a series of musical responses to travels made in 2002, in Scotland, Ireland, England, France and Malaysia.
The work is written for soprano saxophone and accordion, a combination whose unique timbral qualities began to fascinate me when I started to work with Mary McCarthy. Both are reed instruments, with of course radically different playing methods. The whole project began as a one -off, with Postcard for Peter which was a Christmas present for Peter Stevenson. The sound world certainly seemed worth inhabiting, and I realised I would have an extensive set of pieces, which turned out to be based on travels I had recently made. Before long the project grew from pieces to be incorporated in our recitals, into an entire concert programme in its own right.
The pieces can be played in any order, singly or in any grouping. The music you will hear is inspired by many diverse disciplines in music - the whole, I hope, will just be heard as music, with no boundaries or categories. I suppose that the music and interpretation is strongly influenced by what Mary and I like playing, and listening to. Above all, Mary's accordion playing and musical philosophies have enabled me to write pieces of such divergent material.
Postcard for Peter
was originally written for Peter Stevenson of Edinburgh, clarinettist, generous benefactor of the arts, and chairman of the celebrated Really Terrible Orchestra. It is a fast, chasing piece, with solos in the middle - after the reprise of the theme, an abstract section leads into a reflective coda.
The Colours of Kingsbarns
is inspired by my favourite beach . The beach at Kingsbarns, Fife, is on the face of it small and unremarkable, yet many visits uncover the beauty of the colours - countless shades of brown, from the sand, the rocks, the effect of light and the action of water. The piece experiments with colours - very slow moving changes, which are different in every performance. A storm appears in the middle, before a return to the static interplay, after which an insistent melody asserts itself before echoing the opening.
Aumagne Walking
is a simple reflection of walking in the open spaces of the French countryside, in particular a quiet part of the Charente-Maritime. Thereís never any hurry; an episode of contrasted material in the middle is perhaps the walker pausing to day dream in the hot sun. The accordion has the tune throughout, with the soprano saxophone unusually providing a bass line.
Fog at Whitsand Bay
for solo accordion, begins with a gentle homage to Debussy, whilst exposing the modes to be used later on. Then a jazz waltz, open for Maryís solo. Whitsand Bay is in Cornwall - on a foggy day the horizons in this extensive bay blend into sea, sky and fog. If you try really hard you can imagine seeing right across the open Atlantic Ocean. The fog in the music is in the shifting modes. One of the modes is the Phrygian, a very Spanish sound - maybe there are still some Armada boats on the sea bed at Whitsand.
Picasso and the Temples of Penang
a whistlestop car journey through the streets of Penang, Western Malaysia. Now a crowded street, now an exotic temple, then Chinese shophouses, incense, food, people. Every turn brings an instant change of scene, not unlike Picassoís cubist work where short colour events run headlong at each other.
St Patrick Prays for Peace in the Gardens of Craiglockhart
is about the war in Iraq. It was written in response to the choice of St Patrickís Day as a deadline for war. Mary and I were due to play that evening at her house in Edinburgh so this was written for that occasion. Itís a meditation, a simple chant-line over a drone; the Gardens of Craiglockhart are the place in Edinburgh where Wilfred Owen wrote his most eloquent anti-war poetry.
Kuching
is a mixture of minimalism, pure ostinato and Eastern pentatonic lines. It's very repetitive although soothing; it was inspired by watching boats on the river in Kuching, Borneo - a ceaseless plying back and forth of small trading vessels, one of those things you can watch for hours.
Ballyfa Evening
contains memories of a late session in Co. Galway, hosted by Maire NiDhuibhir, featuring traditional music, both instrumental and vocal. This piece, for solo saxophone, celebrates the decorated singing style of Sean-Nos, whilst encouraging other related styles to make an appearance. I'm indebted to Alistair Parnell for some of the fingering techniques.
Singapore - Moments with the Golden Tortoise
in parts of Singapore the pace of life and speed of the modern industrial city left a strong impact. Moments refers to the "moment-form" devised by the radical composer Stockhausen, one of my favourites; the surreal combination with the golden tortoise is a reference to one of Ibert's exquisite set of piano pieces, Histoires, itself a surrealist title signifying nothing. But when you step into the full glare of the sun in Singapore, it dominates every thought., and so it obliterates the line in this piece.
Two Boats at Oysterhaven
is set in County Cork. It's a very secluded bay where two colourful boats were riding out the gentle action of the waves. I insisted on being taken to the coast when we stayed at Mary's home village near here, so Mary showed us the seaside spot where she had spent a lot of time as a child. An accordion vamp sets the scene for the saxophone melody.
Midsummer at Pennan
Pennan is a tiny village on the north Aberdeenshire coast. After all the references and rapid changes of the previous pieces, this is a tune from start to finish. The village was very quiet when I was there - I could hardly believe that only two miles away in a less secluded spot, the wind had been uncomfortably strong. So the tune is a little like that, self contained, unaffected by its surroundings.