SCENES FROM A MOUNTAIN
Richard Ingham & Mary McCarthy
Purchase this recording through our sales page.
Purchase Options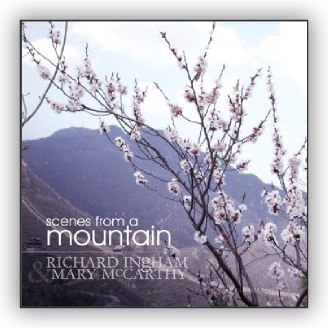 Cover Design by Birnham CD
SCENES FROM A MOUNTAIN is a selection of music that Richard Ingham and Mary McCarthy enjoy playing from Scotland, Serbia, Japan, Italy, Ireland and the United States. The album presents music for saxophone, piano and accordion from the eighteenth centry to the present day: Classical music, contemporary works, traditional music and jazz.
Clarinet and Saxophone Society Magazine
"Richard Ingham and Mary McCarthy's sensitivity and love of the music comes across in their playing. Throughout the CD there is great ensemble awareness as well as skillful control of their instruments. Haunting melodies are beautifully shaped and well balanced."
Herald Insight, India
"Brilliant versatile virtuosity"
Dundee Courier
"The combination of solo isntruments and orchestra led to marvellous textures..... Ingham's beautiful soprano saxophone distinct and soaring... the third movement was excellent, an energetic sort of Gaelic bothy band medley that seemed simply relentless"
Concerto in C minor - Benedetto Marcello
The Italian composer Benedetto Marcello (1686-1739) was a considerable figure in public life in his native Venice, as well as a prolific composer. He wrote many concerti and sonatas as well as paraphrase psalm settings, and was the author of a satirical book on the state of opera. The Concerto in C minor, originally for oboe, is in the standard three movement format: the opening is a steady thoughtful working of strong contrasted material, the celebrated Adagio contains melodic writing of great restraint and beauty, while the final Allegro is an effortless line of invention between the soloist and accompaniment.
Sing, bird - Takashi Yoshimatsu
Takashi Yoshimatsu (b 1953) wrote Fuzzy Bird Sonata in 1991, since which time it has become an important part of contemporary saxophone repertoire. Sing, bird is the central movement and is an evocative study of seemingly improvised melody over a subtly fluctuating piano accompaniment. the song becomes more passionate as the movement progresses, until a delicious harmonic shift signals a more peaceful close.
Continuum (Postscript 1997) - Marilyn Shrude
Continuum was written in 1997 - it is a movement from Postcards From America, a set of miniatures by several composers. Marilyn Shrude (b 1946) is Director of the Mid American Center for Contemporary Music at Bowling Green State University, Ohio; she has had many performances of solo, chamber and orchestral music throughout the world. Continuum is a short work of constant activity, continually shifting between the two hands of the piano and the alto saxophone, giving the effect of a three part texture. The machine-like momentum makes great use of alterations in register, resulting in a soundscape representing a tapestry being woven at high speed.
Three Scenes From a Mountain - Neil Munro
Scottish composer Neil Munro (b 1950) was educated in London an worked extensively as a jazz guitarist, until a back injury persuaded him to take up composition. He wrote this work in 1998; the titles of the sections are all movements found in Tai Chi, which are performed with a sword in the exponent's hand. The mountain in the title is Wudang Mountain in China, the legendary birthplace of the art of Tai Chi Chuan. Moving Aside the Clouds to Reveal the Sun and Reining In the Horse to Watch the Flowing Stream are based on a common structure, a variation on sonata form, and the slow movement Fallen Petals Waiting for the Broom is primarily melodic with decoration, incorporating a hymn-like central section. The work was written for Scottish saxophonist Sue McKenzie.
Lyric of Athos - Svetislav Božić
Božić (b 1954) is Professor of Composition at the Music Academy in Belgrade. Rachmaninov's music has had a profound influence on him, and his own Serbian Orthodox religion provides the foundation for his continuing exploration of the great choral tradition. There is ample evidence of secular influence too, and great awareness of the expressive range of the modern grand piano in the original piano solo. In this version by the artists the potential of the soprano saxophone is utilised to the utmost. The spirituality in this most moving work is evident in the melodies which echo the choral chants of the orthodox faith, the accompanying harmony and the underlying sense of ritual. However, the secular influence is also apparent, with contemporary harmonic choices and huge dynamic variation. The composer indicates a flowing rubato for much of the piece. The climax of the piece in terms of excitement, increasing tempi and and wide variety of register, is marked 'Rubato e quasi cadenza'.
Oro - Miroslav Statkic
Statkic (b 1951) was Professor of Composition at the Academy of Art in Novi Sad, Serbia. His wide ranging works have been performed in the former Yugoslavia and internationally. These include numerous choral works, solo music for a variety of instruments, and orchestral works, including a symphony and a ballet. His early works were minimalist in style. As his creative output matured, influences from his own rich folk music and also jazz became the foundation for his compositions. Oro was written in 1989 and is a Macedonian dance full of energy and bravado, exciting changes of time signatures and dynamic variation. The piano sets the dance scene, with the saxophone becoming more and more involved in the proceedings. The whirling opening finally gives way to a moment's respite before the dancers move on with renewed vigour.
Balkan Dance - Marko Tajčević
This is the fourth of a set of pieces written in 1930 by Croatian composer Marko Tajčević (1900-1984) which capture many different styles of dance from that exotic mix of countries. The slow, swaying impulse of Balkan Dance (originally for piano) is presented in a new light here, with saxophone and piano sharing the haunting melody in unison. The severity of line and structure are gripping in their depth and simplicity. Tajčević's compositions are written in the spirit of folklore, showing obvious influences of traditional music and dance.
Nocturne for Novi Sad - Edward McGuire
Edward McGuire (b 1948) is one of Scotland's leading contemporary composers. His works, ranging from solo and chamber music through to full-scale operas, are regularly performed by major orchestras and soloists. Edward is a founder member of "Whistlebinkies" folk group and a notable flautist. This involvement with the two forms of musical activity results in a unique blend of folk influence, coupled with the discipline and understanding of classical compositional skills. Nocturne for Novi Sad is one of a set of of four Nocturnes commissioned in 1999 (with funding from the Scottish Arts Council) by the chamber group Mr McFall's Chamber, and is heard here in the evocative solo piano version.
Three Scots Fairy Tales - Ronald Stevenson
Ronald Stevenson (b 1928) is known internationally as a pianist and composer of large scale works. His output also includes a number of miniatures, many of which are greatly influenced by folk music. The Piper utilises a simple melody with the merest suggestion of a drone - the melody then develops decoration typical of pibroch. The Harper has poise and elegance, making great use of arpeggio figuration. The Fiddler has a contrasting hint of menace in its provocative melodic and harmonic implications.
Mags' Chant - Ruby Mackay
Ruby Mackay (b 1955) wrote this beautiful tune for her sister in 2000. Orcadian composer Ruby is now based in Aberdeenshire after much international travel as a performer and composer, and directs two very active music schools. She succeeds here in producing that most elusive of holy grails, a simple and appealing melody. Mary's delightfully understated piano playing sets the scene perfectly.
Billie's Bounce - Charlie Parker
The innovative alto saxophonist Charlie Parker (1920-1955) wrote this, one of his most celebrated numbers, in 1945. The original quintet recording contained the unusual line-up of both Miles Davis and Dizzy Gillespie - but Gillespie was on piano on this occasion. While saxophone players quite rightly steal other people's great music to play, it seemed appropriate to offer this to the accordion.
Céim ar Chéim - Maria Lowry
Céim ar Chéim (Step by Step) was first written for 100 performers as part of a major jazz education project in Yorkshire in 2000. Maria (b 1979), a composer from Northern Ireland, was agreeable to a slight reduction in forces for this performance - soprano saxophone and accordion. This final number is another great tune with space for solos and textural interplay between the two reed instruments.