ADOLPHE SAX AT 200: A Genius Who Invents a Noise
Richard Ingham
Purchase this recording through our sales page.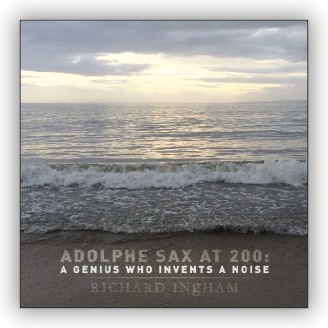 Eight Scottish composers created and performed new works in 2014 for the two hundredth anniversary of the birth of Adolphe Sax, creator of the saxophone.
The project was made possible by the generous support of Creative Scotland. www.creativescotland.com
Recorded at Watercolour Studios. Ardgour, Scotland, September and October 2014 Sound Engineer: Nick Turner

Percussion recordings at CaVa Sound, Glasgow, Scotland

Production by Margaret Douglass of Largo Music

Graphic design by Mike Garden of Birnam CD

Album cover photography by Margaret Douglass and David Stothard
Richard Ingham plays Yamaha Saxophones

Saxophones prepared and maintained by Jonathan Griffin and Ruth Prowse of The Wind Section, Edinburgh

Grateful thanks to Douglas Dunn for permission to use extracts from his poem An Address to Adolphe Sax in Heaven (Faber and Faber) and to Peter and Hazel Rose for the use of their Steinway 1900 Model C grand piano
Caliban - Sally Beamish
(Richard Ingham, soprano saxophone / Sally Beamish, piano)
Written just before starting work on a ballet for Birmingham Royal Ballet, this short piece is one of a series of character sketches exploring facets of the main players in Shakespeare's 'The Tempest'. The saxophone seems to embody the hybrid creature Caliban – half human half spirit – and the music is edgy and rhythmic. The central section shows a more reflective side: in spite of his abrasive and resentful nature, one of the most beautiful passages in the play is delivered by Caliban ('the isle is full of noises').
Sally Beamish
Dusan - Mary Ann Kennedy
(Mary Ann Kennedy, voice / Richard Ingham, soprano saxophone)
CUIR SEO SEACHAD
(transcribed from microfilm of Calum Maclean Notebooks 1946) – translated from the speaking of Eòghainn Nicholson:

"The good old boys had many thing. I remember when I was young, going to school. I'd have been about ten or twelve years old. There was one back then and he'd be at this particular rhyme. Oh, I loved this song so much that he eventually taught it to me. But when you said this rhyme, you needed two. One would say, "What is it that's passing by?" The one reciting would answer him, but since there's no-one here right now, I'll do the two things, so you'll understand how the thing went."

Cuir seo seachad, gu dè a th'ann?

Dà dhuine dhiag len dà ghille dhiag,

diligeanach, deiligeanach, deidhrum, aona ghobhar diag len aona mheann diag, diligeanach, deiligeanach, deidhrum, deich ghearrain-eich (fhirionn) a' ghliogadai, ghlagadai, ghleadhrum, naoi bà maoil len naoi laoghanan odhar, ochd caileagan dubha len ochd banachagan dubha, seachd ealta fhuidhe, sia nara duinne, còig muca biata, ceithir iallan donna, trì druidean dubha, dà chalaman gheala, coileach is cearc gheàrr.

What's that passing by?

Ten men men and two with their ten servants and two

Ten goats and one with their ten kids and one
Ten gelding horses
Nine hornless cows with their nine brindled calves
Eight black-(haired) girls with their eight black-(haired) dairymaids
Seven coveys of birds
Six brown snakes
Five fattened pigs
Four brown droves
Three black starlings
Two white doves
A cock and hen

Mary Ann Kennedy
The Calum Maclean Project
From Aberdeen to hamlets in the Argentine….. - Pete Stollery
(Richard Ingham, alto saxophone / digital sound)
From Aberdeen, to hamlets in the Argentine… is a line from the poem An Address to Adolphe Sax in Heaven by Fife poet Douglas Dunn. It reflects recent preoccupations with sound and place, in particular Aberdeen, where I live and work, and Buenos Aires, where I have been involved in a number of projects in recent years. The digital sound part uses field recordings made in both cities as well as recordings of snippets of the live saxophone part recorded by Richard Ingham in Aberdeen and Luis Conde in Buenos Aires; these are interwoven with elements of Tango and Scottish traditional music to create a tapestry of contrasting and related sonic structures.
Pete Stollery
Différance I, Différance II, Différance III - Martin Kershaw
(Martin Kershaw, alto saxophone / Richard Ingham, alto saxophone)
The title is derived from an idea put forward by the French literary theorist Jacques Derrida (1930-2004) about deferral of meaning in language. Here it is applied to the composition's three movements, which all wilfully defy definition in terms of traditional structure, key centre, melody and so on. Derrida's suggestion was that deferral of meaning was not only central to language, but essential to its endless multi-faceted beauty, and therefore something to be celebrated rather than feared. Derrida collaborated in a live performance with legendary jazz saxophonist Ornette Coleman in Paris in 1997. Sadly, the event was perhaps less than entirely successful. I like the fact that Sax, in essence, de- and re-constructed a brass and woodwind instrument in order to create something so fascinating and wonderful. Vive le saxophone!
Martin Kershaw
Deconstructin(g) Jazz Improvisation - Sara Ramshaw
The Ill-Tricket Tooteroo - Richard Michael
(Richard Ingham, soprano saxophone / Richard Michael, piano)
'The Ill-Tricket Tootaroo' translated from the Doric, means the mischievous saxophone, and in the case of Richard Ingham – the versatile saxophone. I have played concerts with Richard where he has brilliantly sounded like many of the saxophone greats from Sydney Bechet through to Coltrane and beyond, in demonstrating the history of the instrument.

The challenge in writing this piece for him was to give the lad the freedom to improvise within the framework I had written for him. The piece starts with a dark section using the Lydian (not the Doric!) mode before hitting a Gospel groove in which we both improvise. This is followed by a slow Chorale in which Richard gradually embellishes the melody, leading into a "Shout" section, showing my love of Stride piano.

His playing is as 'Ill-Tricket' as you can get, and that was my aim in writing the piece!
Richard Michael
'William Meikle of Strathaven', 'Adolphe Sax, His Jig', 'The Store of Sonic Toys' - Richard Ingham
(Richard Ingham, soprano saxophone / Stuart Semple, bodhràn, congas, djembe)
This suite of three short movements celebrates Adolphe Sax and the saxophone. The opening air is named after the designer of an important precursor of the saxophone; William Meikle of Strathaven, Lanarkshire, invented the caledonica, in 1828. The jig is traditional in style, with an improvised central section. I thought Adolphe Sax would approve of his instrument playing traditional music accompanied by percussion (bodhràn). The title of the finale quotes Dunn's poem, where Sax's genius adds to the universal store, and the piece is structured as a contemporary reel, with a central breakdown episode. Thanks to Tom Burke and John Surman for their stylish influence.
Richard Ingham
Door - Fraser Burke
(Richard Ingham, soprano saxophone / Fraser Burke, synthesiser)
This piece for soprano saxophone and synthesizer stirs a duo of dichotomies - the instrumentation itself; a combination of 'old' and 'new', displaying the various timbral qualities/effects of both, and the quasi-improvised, intuitive style of composition, alongside a section of improvised music within parameters. An example of analogue and digital juxtaposition is apparent in the opening few bars, when the saxophone holds clearly defined pitches, while the synthesizer displays modern effects to alter the sound in real time. However, even after 200 years of the saxophone's existence, no synthesizer can achieve anything close to its subtle timbre and colouration.
Fraser Burke
Upper Inverroy - James Ross
(Richard Ingham, soprano saxophone / James Ross, piano)
The title is a reference to the Highland village where Peter and Hazel Rose live, and in grateful thanks for the use of their Steinway piano. This lyrical piece is influenced by a Scottish lament and the tune in its simplest form fits within the range of the Highland bagpipes drawing on ornamentation from the Scottish piping tradition. In this Lament the soprano saxophone takes the role of the bagpipes and is accompanied by the piano.
James Ross
From Douglas Dunn's poem:
...Bizet in his L'Arlésienne -
A sound like lyric Caliban -
Raised eyebrows as he lowered the tone
With solos for a saxophone...
..Now look at you! From Aberdeen
To hamlets in the Argentine,
In Reykjavik and Birmingham,
Djakarta and Dar es Salaam,
High-stepping bands with majorettes
Play saxophones like martinets...
...A genius who invents a noise
Adds to the store of sonic toys
That Homo ludens in his wisdom
Accepts into his playful system...
(An Address to Adolphe Sax in Heaven, New Selected Poems 1964-2000, Faber and Faber, 2003)
Douglas Dunn, Philip Larkin and Adolphe Sax...
Douglas Dunn is a fan of jazz and the saxophone. When at Hull University, he was a colleague of fellow librarian and poet Philip Larkin. They also shared a passion for jazz, but Larkin hated most post 1960 modern jazz. Larkin would receive albums to review (he was jazz critic for the Daily Telegraph from 1961-1968) but loathed reviewing anything by John Coltrane or Ornette Coleman, and so would send these along the corridor to Douglas, who loved them. On one Christmas card, Douglas added - "Dear Philip, please keep hating John Coltrane."